Caraway Cookware/Bakeware is a brand that has been making waves in the kitchenware industry recently with their line of high -quality non-toxic ceramic pots and pans. These pots and pans are made with a unique, high-quality ceramic material that is free of harmful chemicals like PTFE and PFOA, which are commonly found in traditional non-stick cookware.
Not only are Caraway's pots and pans safer for you and your family, but they are also incredibly durable and long-lasting. The ceramic material is scratch-resistant and can withstand high heats, making it perfect for all types of cooking. And because the non-stick surface is so smooth and effective, you can cook with less oil and butter, making your meals healthier.
One of the standout features of Caraway's ceramic pots and pans is their beautiful design. They are available in a range of stylish colors. The pots and pans also have a sleek and modern aesthetic, with ergonomic handles and a durable construction.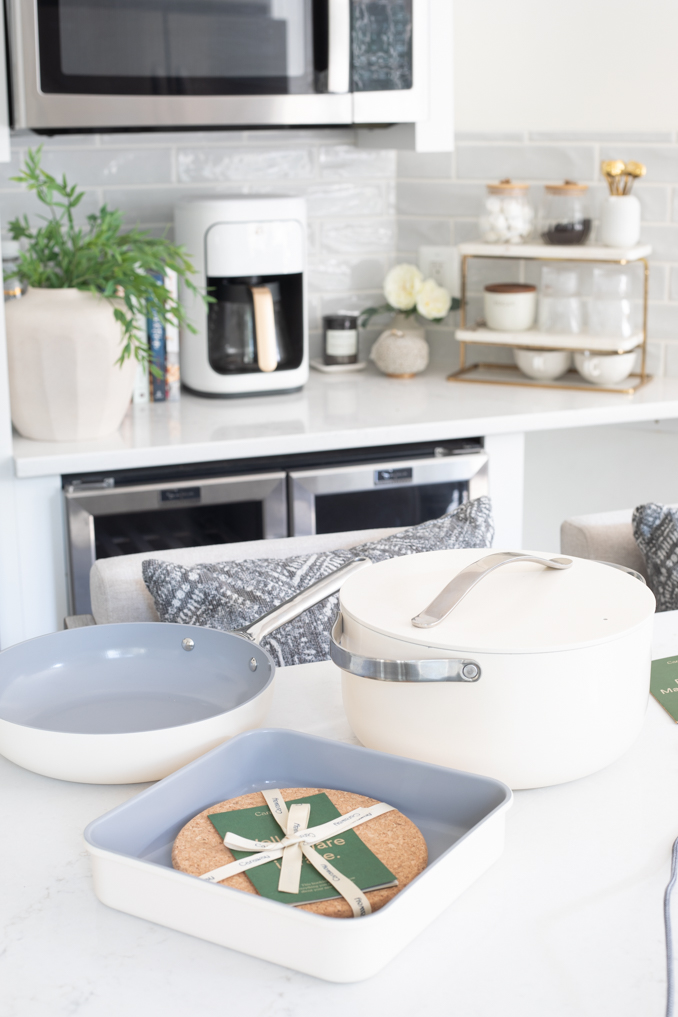 In addition to their aesthetic appeal, Caraway's pots and pans are also incredibly practical. They are oven-safe up to 550 degrees Fahrenheit and can be used on all types of stovetops, including gas, electric, and induction. And because the non-stick surface is so effective, food will easily release from the pan, making cleanup a breeze.
But don't just take our word for it – customers rave about their Caraway ceramic pots and pans. Many people have reported that the non-stick surface is truly impressive, and that the pots and pans are a joy to cook with. They are also easy to clean, with most people reporting that a simple wipe with a sponge is enough to remove any stuck-on food.
Overall, Caraway's non-toxic ceramic pots and pans are a fantastic option for anyone looking to upgrade their cookware. They are safe, durable, beautiful, and practical, making them a great investment for any home chef. So if you're in the market for new pots and pans, be sure to check out Caraway's line of non-toxic ceramic cookware.
WHY BUY CARAWAY POTS AND PANS
Caraway non-toxic cookware is free of toxic materials like PFOA, PTFE, other PFAs, lead, cadmium, or toxic metals.

Caraway bakeware, pots and pans only requires a bit of oil or butter usually 1-2 tbsp.

You can buy the set or buy individual items.

The Cookware Set: Their best selling set features four versatile pots & pans-10.5 in Fry Pan, 4.5 QT Sauté Pan, 3 QT Sauce Pan, and a 6.5 QT Dutch Oven—as well as cookware organizers to make easy and safe storage.

The  Ceramic Bakeware Set: Includes 11 pieces, all free of toxic chemicals. If you love to bake, the Caraway baking pans are a great investment. They are durable, non-stick, and versatile, making them perfect for all of your baking needs. Whether you are an experienced baker or just starting out, Caraway baking pans, pots and pans will help you create delicious, perfectly baked treats every time.
Save $150 on each Caraway Cookware and Bakeware set.
Save 10% off their Half Bakeware set using this link —> Half Bakeware set