Christmas holiday season is upon us, and that means it's time to start thinking about how to deck the halls and make your home feel festive and welcoming. One of the key areas to focus on is the entryway table, as this is often the first thing that guests see when they enter your home. In this post, we'll go over some tips and ideas for styling your entryway table for Christmas.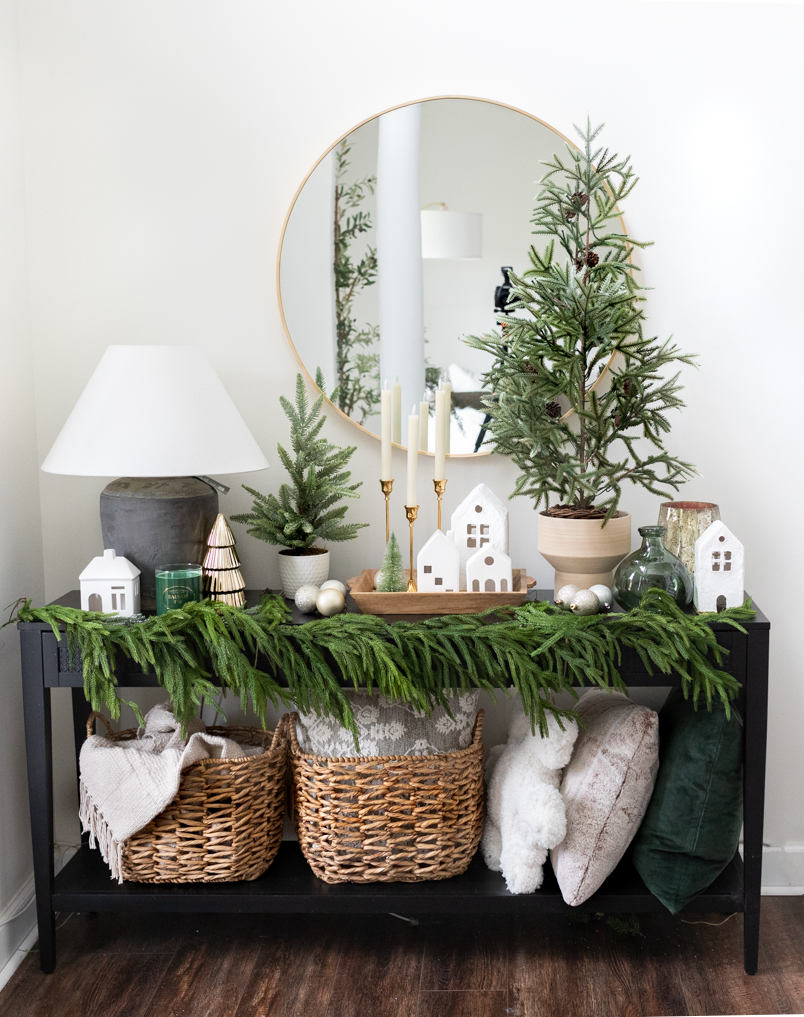 First and foremost, consider the size and shape of your entryway table. This will determine what type of decorations you can use and how many. If you have a small, narrow table, for example, you'll want to choose decorations that are compact and don't take up too much space. On the other hand, if you have a large, spacious table, you can go all out with bigger, bolder decorations.
Once you've considered the size of your table, it's time to start thinking about the overall look and feel you want to create. Do you want a classic, traditional look with red and green colors and lots of garlands and twinkling lights? Or do you want a more modern and minimalistic look with white and silver accents and just a few statement pieces?
The choice is yours, but be sure to keep your personal style in mind and choose decorations that reflect who you are. I love the color green so I mixed garland with gold decor and white decorative pieces.
One of the key elements of styling an entryway table for Christmas is the centerpiece. This is the main attraction and should be the focal point of the table. In my photo above the focal point is the Mini Christmas tree. Lighting is an important element of decorating a console table.
Christmas is all about twinkling lights and sparkle, so be sure to incorporate this into your entryway table design. You can do this with string lights, candles, or even fairy lights tucked into a jar or vase. The key is to create a warm, inviting glow that draws the eye and sets the mood for the rest of your home. You can't tell but there are twinkle lights on the Christmas tree above. It's absolutely gorgeous at night.
There are many different options for a centerpiece. If you don't like the classic mini Christmas tree, try using or wreath to a more creative and unique option like a DIY snow globe or a decorative sleigh. Whatever you choose, be sure to place it in the center of the table and make sure it's the right size and scale for the space.
Next, think about the other decorations you'll use to fill out the table. This could include things like garlands, ornaments, and other festive items. Again, be sure to choose decorations that fit with the overall look and feel you're going for. If you're going for a classic, traditional look, consider using red and green colors, lots of greenery, and maybe even some glitter and sparkle. If you're going for a more modern and minimalistic look, opt for white and silver accents, clean lines, and simple, elegant decorations.
Finally, don't forget the finishing touches. These are the small details that can really make your entryway table pop and feel special. This could include a cozy throw blanket inside of a basket or maybe even a few small gifts wrapped up and placed on the table or below it. Some fresh-cut greenery or flowers in a vase would be perfect. These little touches can go a long way in adding warmth and charm to your entryway table.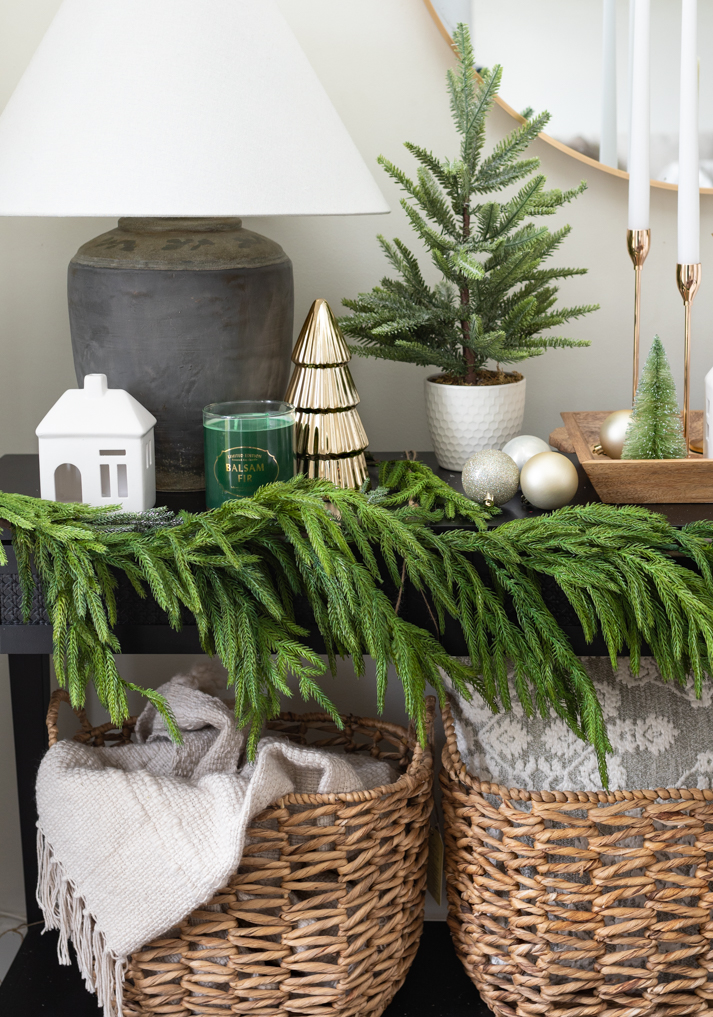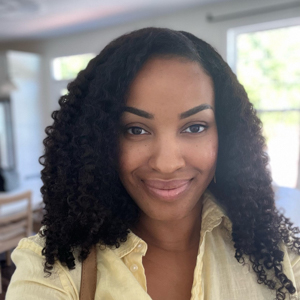 APRIL BOLLER WRIGHT
Owner & Founder
As an autism mom and decor blogger, I often find myself straddling two very different worlds. On the one hand, there is the world of autism, with its challenges and struggles, but also its joys and rewards. On the other hand, there is the world of decorating and home design, with its beautiful colors, patterns, and textures.